Sausage and Peppers Hero
Sausage and Peppers Hero... the classic Italian sandwich at any BBQ party and Italian festivals across the US.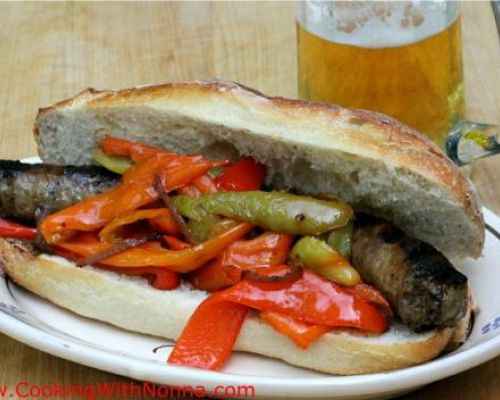 Ingredients
For 4 Person(s)
For the Hero:
2

pounds

sausage, sweet or hot

2

pounds

Cubanelle peppers

1

medium red onion, sliced

5

cloves garlic, sliced

peperoncino flakes

1/4

cup

extra virgin olive oil

salt

hero bread
Directions
Wash the peppers, remove the stems and seeds and slice them.

In a saute pan, add the oil, peperocino, garlic and the onion.

Saute until the garlic turns lightly golden.

Add the peppers and turn them into the oil almost continuously. Add salt as desired.

Continue cooking the peppers until they become soft (about 20 mins.)

Grill the sausage to your liking and assemble your hero sandwich!
Reviews
Thursday, 08 September 2016
I would have given it four gold pots, except that it was missing tomato sauce. We always simmer our ...
See Full Review >>
- JerseyWarren