Sausage and Peppers
Sausage and Peppers recipe, a combination of two very simple and yet very flavorful ingredients to create a simple and tasty meal.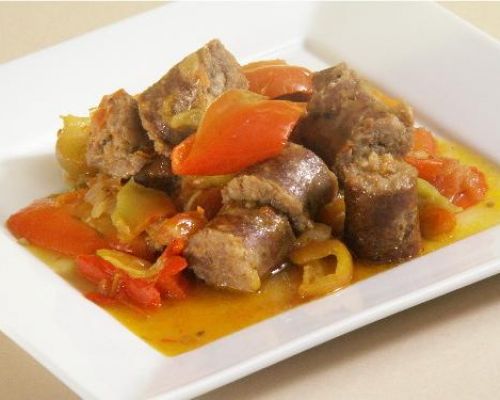 Ingredients
For 5 Person(s)
For the Sausage:
2

pounds

sweet Italian sausage (or hot if you prefer)

2

pounds

Italian peppers

1

large onion

1

cup

chopped tomatoes - fresh preferably

1/2

cup

white wine

hot pepper

extra virgin olive oil

salt
Directions
With a fork, puncture a few holes in the sausage links and either barbecue it or broil it. This is necessary to give the sausage added flavor and remove the excess fat. You want to broil it until the sausage is lightly golden.

Cut the sausage links in pieces about 1 inch long.

In a large pan, add three tablespoons of extra virgin olive oil and the onion cut in thin slices.

Saute` the onion until it becomes translucent.

Wash the peppers and cut them in quarters or more parts depending on their size. Add them to the pan.

Add the tomatoes and the wine as well as salt and hot pepper as desired.

Cook the peppers for a good 20 minutes. Add the sausage and cook for an additional 10 minutes. By now the peppers should be soft.
Reviews
Sunday, 10 May 2020
Love the sausage broccoli and potato recipe. Can you do a video on chicken saltimbocca?
- lefty617