Semolina Crusted Chicken Cutlets
Semolina Crusted Chicken Cutlets.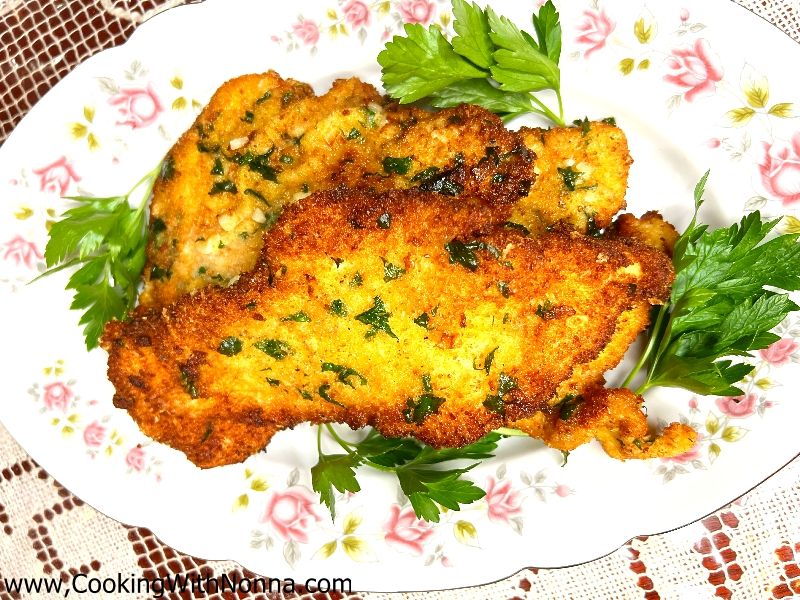 Ingredients
For 4 Person(s)
For the Cutlets:
1

pound

chicken cutlets, thinly sliced

1

cup

bread crumbs, plain

4

cloves garlic, finely chopped

2

tablespoons

fresh parsley, finely chopped

4

tablespoons

grated Pecorino cheese, plus more for adding to the egg wash

pinch of salt

pinch of fresh black pepper

Semolina flour

3

large eggs

olive oil for frying
Directions
Get the ingredients needed for this recipe

HERE

In a flat plate mix together the bread crumbs, cheese, garlic, parsley and a pinch of black pepper.

In a plate beat the two eggs together with a pinch of salt and about a tablespoon of pecorino cheese.

Add the semolina flour to a plate.

Take each cutlet and dredge it in the flour. Dip each one in the egg wash and then dip it in the bread crumbs mix until the cutlet is completely coated. Using the palm of your hand, Pat the breadcrumbs in.

Heat the olive oil to 350 degrees and fry the cutlets for about 2 minutes on each side until golden brown.