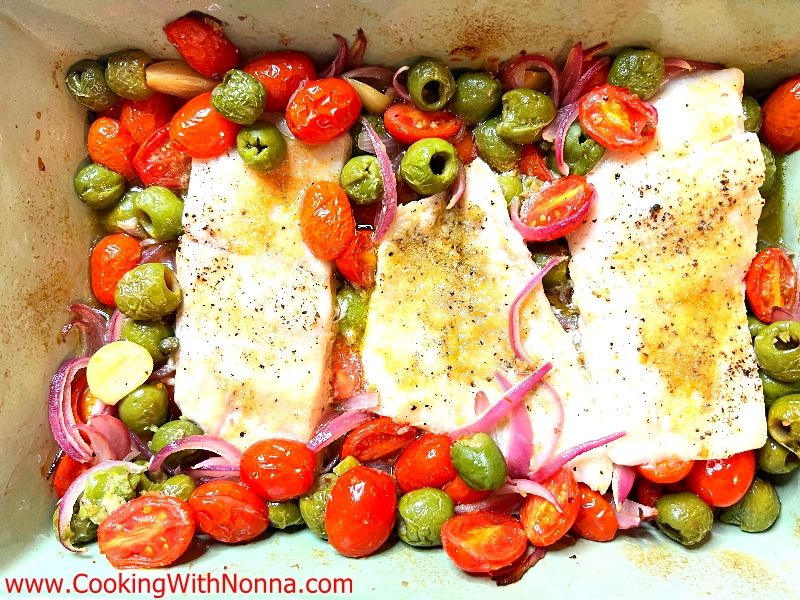 Ingredients
For 3 Person(s)
For the Fish:
1 1/2

cups

cherry tomatoes, halved

1

small, red onion, sliced

5

cloves garlic, halved

1

cup

Castelvetrano olives

1/4

cup

capers

1/4

cup

white wine, such as Pinot Grigio

1/4

cup

extra virgin olive oil, plus extra for drizzling the fish

1/4

teaspoon

red pepper flakes

3

Salt and black pepper as desired

halibut fillets, but you can use any fish you like
Directions
Get the ingredients needed for this recipe

HERE

Preheat your oven to 425 degrees.

In a baking dish, add the tomatoes, onions, garlic, olives, capers, wine, oil, red pepper flakes and salt and pepper as desired. Toss until everything is well coated in oil.

Bake for 15 minutes.

In the meantime, drizzle the fish with extra vergin olive oil and season the fillets with salt and pepper.

Add them to the baking dish and bake for an additional 15 minutes.
Reviews
Thursday, 13 October 2022
I made this last night and OMG it was amazing!!! Hands-down one of my favorite fish recipes! Thank y...
See Full Review >>
- Chicotammy