Spaghetti with Anchovies & Fried Breadcrumbs
Spaghetti with Anchovies & Fried Breadcrumbs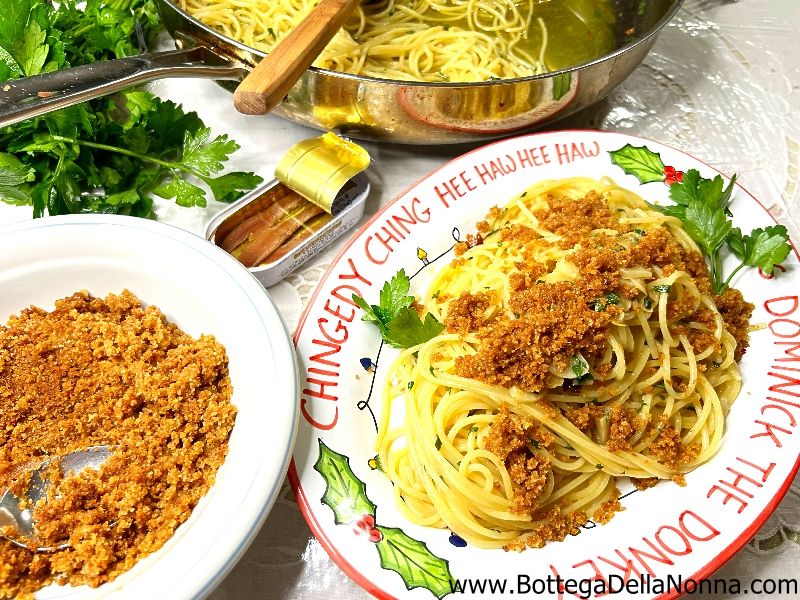 Ingredients
For 4 Person(s)
For the fried breadcrumbs:
3

tablespoons

extra virgin olive oil

1

cup

plain breadcrumbs
For the pasta:
1/2

cup

extra virgin olive oil

1

pound

dried spaghetti 

10

garlic cloves, sliced

red pepper flakes as desired (I used about 1/2 teaspoon)

7

anchovy fillets packed in oil

1/2

cup

fresh parsley, chopped
Directions
Get the ingredients needed for this recipe

HERE

To make the breadcrumbs:

Put a sauté pan over a low-medium flame and heat the oil. Add the breadcrumbs and stir with a wooden spoon until they begin to turn golden.
Transfer to a bowl immediately to prevent burning. Set aside.

To make the pasta:

Put a large skillet over a medium flame and heat the oil.
Drop the pasta into generously salted boiling water. You want to use slightly less water than usual for this dish so the starch will be more concentrated.
Add the garlic cloves to the hot oil and sauté until the garlic begins to turn golden, about 30 seconds. Add in the red pepper flakes and the anchovies and cook until the anchovies break down. About 30 seconds.
Scoop out about a cup of pasta water from the spaghetti and add it to the pan while stirring.
Add the super Al dente pasta to the pan along with another cup of pasta water.
Cook over high heat for 1-2 minutes until all the water is absorbed. Top with the fried breadcrumbs and serve.
Reviews
Sunday, 04 December 2022
This simple and profoundly flavorful dish has been a staple of our Vigilio for as long as mi famigli...
See Full Review >>
- futuredirected