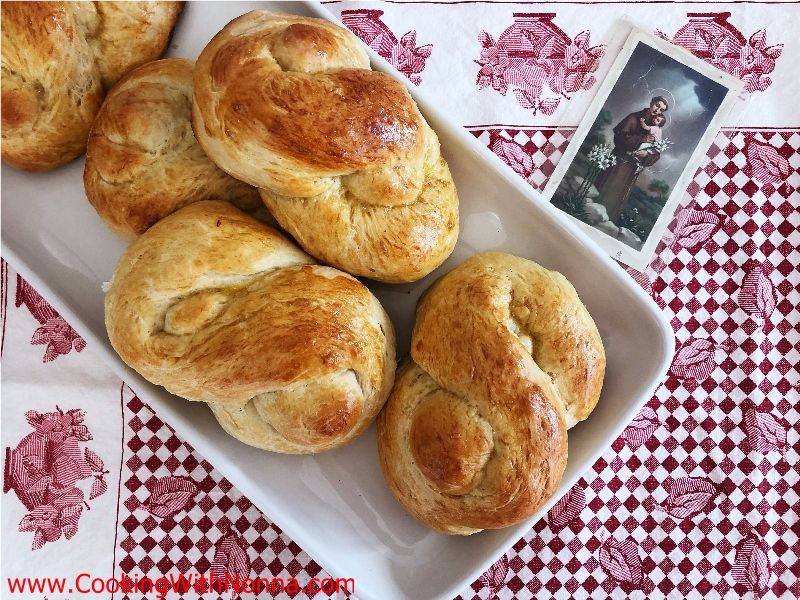 Ingredients
For 1 Dozen(s)
For the Bread:
2

packets active dry yeast

1/4

cup

warm water

3/4

cup

whole milk

3/4

cup

unsalted butter (1 1/2 sticks)

3/4

cup

granulated sugar

1

teaspoon

salt

5 1/2

cup

00 flour (or all purpose), divided

4

large eggs, 3 for the dough and one for brushing
Directions
Heat the water slightly on the stove until it is just lukewarm. Be careful not to make the water too hot or it will kill the yeast.

Add the warm water to the bowl of a stand mixer fitted with the dough hook attachment. Add the yeast and a pinch of granulated sugar and set aside until bubbles begin to form, about 10 minutes.

Add the milk and butter to a small saucepan and heat until the butter has melted. Cool to room temperature.

Add the cooled milk and butter mixture to the yeast mixture along with the sugar, salt and 1 cup of the flour. Mix on low speed until incorporated, about 2-3 minutes.

Raise the speed to medium. Lightly beat the eggs with a fork and add them in along with another 1 1/2 cups of the four. Mix until the flour is absorbed, about 2-3 more minutes and then add another 2 1/2 cups of the flour until a soft dough begins to form. The dough will be very sticky.

Turn the dough out onto a floured work surface. Flour your hands and knead in the remaining 1/2 cup of flour in two additions. Knead until the dough is smooth and supple, about 7-10 minutes. Form the dough into a ball.

Brush a large bowl with olive oil and place the dough in the bowl. Flip the ball of dough over until the oiled side is up. Cover the bowl with with plastic wrap and place it in a warm place to rise until doubled in size, about 2 hours.

Punch the dough down and turn it out onto a lightly floured surface. Knead until the dough is smooth and supple, about 5 minutes.

Divide the dough into 12 equal pieces. Roll each piece into a rope about 16 inches long and about 1 1/2 inches thick. Twist one side into a loop and pull it over one of the ends.

Alternatively you can also make the rolls into twists, pinwheels or roll them into balls.

Place the rolls on a parchment lined baking sheet at least 2 inches apart and leave them to rise in a warm place once more for 1 hour.

Preheat your oven to 325 degrees.

Beat the remaining egg and brush each roll with the egg wash.

Bake the rolls until golden brown, about 20-30 minutes.