Torta al Cioccolato - Chocolate Cake
This is one of my favorite chocolate cake. It's very easy to make it, I had no problems since the very first time I made it. It's one of my mom's recipe, she used to make it for special occasions, she'll be very proud of me!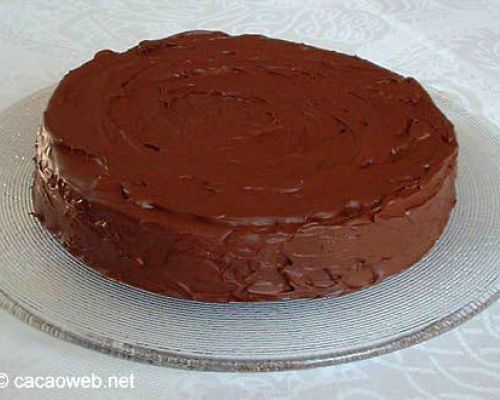 Ingredients
For 12 Person(s)
For the Cake:
4

ounces

semisweet dark chocolate

5

large eggs

3/4

cup

sugar

1/2

cup

vegetable oil

1

cup

all-purpose flour

1

teaspoon

baking powder

1

teaspoon

vanilla extract

3

tablespoons

water
For the Frosting:
6

tablespoons

butter

16

ounces

semisweet dark chocolate
Directions
Preheat oven to 350 deg. Grease a 9 inch. cake tin, lightly dust with flour.

Break chocolate into small pieces and melt it with the water in a double boiler

Separate egg whites and yolks. With an electric mixer whisk the eggs whites until forming stiff peaks, add half of the sugar while mixing.

In a separate bowl whisk the egg yolks with the remaining sugar for one minute using the mixer.

Add gradually the vegetable oil, one spoon at a time and mix well.

Add melted chocolate and mix well. Transfer to the bowl containing the whisked egg whites.

Sift in the flour and baking powder, add vanilla extract

Fold everything together using a spoon or a rubber spatula.

Transfer to cake tin and bake at 350 degrees until a wooden pick inserted in center comes out clean, approximately 45 to 60 minutes

Leave the cake to cool in the tin, it could be refrigerate for one hour before slicing.

When completely cold, remove the top of the cake, slice through the middle to make two layers. Break chocolate in small pieces and melt with butter using the double boiler like before . Let mixture cool before using it. Use half of the melted chocolate for filling and half for frosting. Place the cake in the refrigerator to harden the icing.
Recipe Notes
The filling can also be a jam of your choice. I prefer it all chocolate, I'm a chocolate lover! If you want a thicker chocolate filling, just increase the dosage. Give it a few hours before serving. It could also be prepared the day before for more moisture.
Categories:
Dessert & Cookie Recipes
,
Intermediate Recipes
,
All Recipes
,
Christmas Recipes
,
Thanksgiving Recipes
,
Easter Recipes
,
Valentine's Day Recipes
,
Super Bowl Recipes
,
Chocolate Recipes
,
Mother's Day Recipes
,
Father's Day Recipes
,
Memorial Day Recipes
,
4th July Recipes
,
Labor Day Recipes
,
Easter Cakes and Cookies
,
Valentine's Cake and Cookie Recipes
,
Cakes and Pies Recipes
,
Thanksgiving Dessert Recipes