Valentine Hearts Butter Cookies
This is a very simple butter cookies recipe. it was passed down to me by my mother in law. I use this base-dough recipe for all my Holiday cookies, changing the shapes and the color toppings.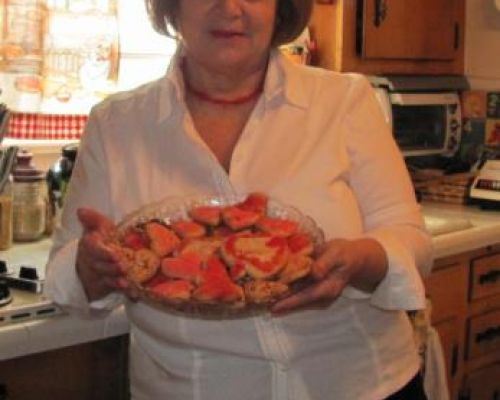 Ingredients
For 2 Dozen(s)
For the Cookies:
3

cups

all purpose flour

3

large eggs

1

cup

sugar

4

ounces

butter or margarine

1

tablespoon

tablbaking powder

1

tablespoon

tvanilla extract

pinch of salt

1

egg white and sprinkles of your choice and color. for decoration
Directions
Arrange flour on a working board forming a circle.

Add sugar, baking powder, salt, eggs, butter, vanilla extract.

With your hands start mixing the ingredients from the center of the circle.

Add some flour to your hands if too sticky and keep on working until dough is made.

Set dough aside for about 10 minutes.

Always sprinkle a little flour on the board and use a little piece of dough at the time.

With a rolling pin, stretch the dough, not too thin, not too thick, about 1/4 of an inch.

Use cookie cutters (in this case, hearts) and place them on a greased cookie sheet

Beat egg white and brush it on the cookies so topping will stick

Sprinkle sugar crystals, chocolate , confetti, anything you like on it.

Bake in a preheated oven at 325 for about 15-20 minutes.
Recipe Notes
If using plastic cookie cutters with lots details, make the dough a little hard and sprinkle cookie cutter with flour, dough will separate easily.