Blueberry Cake and Sauce
Blueberry Cake and Blueberry Sauce... perfect together!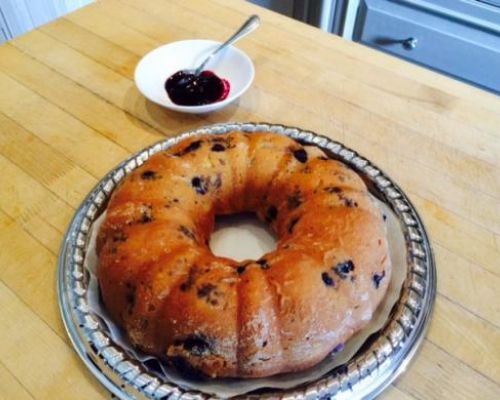 Ingredients
For 10 Person(s)
For the Cake:
2

cups

all purpose flour

1/2

cup

sugar - (3/4 cup if you like it sweet)

1

cup

sour cream or 0.5 cup sour cream and 0.5 cup plain Greek yogurt)

2

large eggs

2

teaspoons

baking powder

1/2

cup

olive oil

1

teaspoon

vanilla extract

1 1/2

cups

blueberries
For the Sauce:
2

cups

fresh or frozen blueberries

1/2

cup

water

1/2

cup

sugar

2

tablespoons

fresh lemon juice

2

tablespoons

corn starch (mixed with 2 tablespoons water)

1/2

teaspoon

vanilla extract

1

tablespoon

lemon zest
Directions
For the Cake:

Beat the Eggs with the sour cream. Add the oil and vanilla and then add the dry ingredients. Leave a little flour to dust the berries with.

Batter will be thick. Bake in a tube pan for 40-45 mins.

For the Sauce:

In a saucepan over medium heat combine the blueberries, 1/2 cup of water, sugar and the lemon juice. Stir frequently and bring to boil.

In a small bowl, mix the cornstarch with 2 Tbs of cold water. Slowly stir the corn starch into the blueberries, taking care not to crush the blueberries. Simmer until the blueberry sauce is thick enough to coat the back of a metal spoon, about 5 mins.

Remove from heat and gently stir vanilla and lemon zest.

NOTE: If sauce is too thick, slowly add water until you reach the desired consistency. If you have no lemons, you can substitute with juice of an orange and its zest (I prefer lemon)
Use the Code CWN20 to Get 20% OFF
On my New T-Shirts!