Cavatelli with Cream of Beans and Clams
Cavatelli with Cream of Cannellini Beans and Clams... a creamy and rich dish for any time of the year.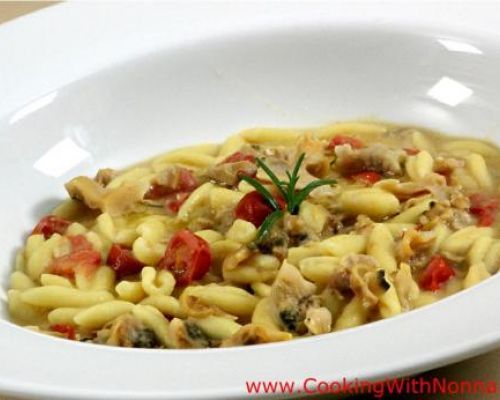 Ingredients
For 4 Person(s)
For the Pasta:
1

pound

cavatelli pasta

1/2

pound

Cannellini beans from a can or already boiled.

2

dozens

top neck clams

15

cherry tomatoes

1/2

cup

white wine

4

cloves garlic

1

tablespoon

fresh rosemary

peperoncino - hot pepper flakes

salt

extra virgin olive oil
Directions
Get the Ingredients needed for this recipe

HERE

Remove the fruit of the clams from the shells either by opening each clam with a knife or by steaming them. In either case be careful to recover the fruit from each clam as well as the water that comes out of them. Separate the two and save for later.

In a large pan add some olive oil and saute` the garlic with some peperoncino, as desired.

Once the garlic is beginning to turn gold, add the rosemary, saute` for 1 minute and add the cherry tomatoes. Saute the tomatoes for 2-3 mins.and add the white wine. Let the alcohol completely evaporate.

Put the beans in a blender and make a cream out of them. You may need to add some of the clams water in the blender as well or they may get stuck.

Add the cream of beans and the water recovered from the clams to the pan.

Continue to cook for an additional 10 mins. at medium flame.

Separately cook the pasta and remove it when it is very "al Dente".

Add to the pan the fruit of the clams, cook them for 2 minutes and then add the Cavatelli. Continue cooking everything together for 2-3 mins. by stirring all the ingredients.

Serve with a drizzle of good EV olive oil.
Categories:
Nonna Romana Sciddurlo
,
First Course Recipes
,
Italian Pasta Recipes
,
Puglia Recipes
,
Easy Recipes
,
All Recipes
,
Valentine's Day Recipes
,
Cavatelli Recipes
,
Mother's Day Recipes
,
Father's Day Recipes
,
Clams - Vongole Recipes
,
Christmas Fish Recipes
,
Homemade Pasta Recipes
,
Valentine's Day  Recipes
,
Good Friday Recipes
,
Mediterranean Diet First Course Recipes
,
Thanksgiving First Course Recipes
,
Seafood Pasta Recipes