Escarole with Beans and Pancetta
Escarole, Beans and Pancetta... comfort food for the cold winters!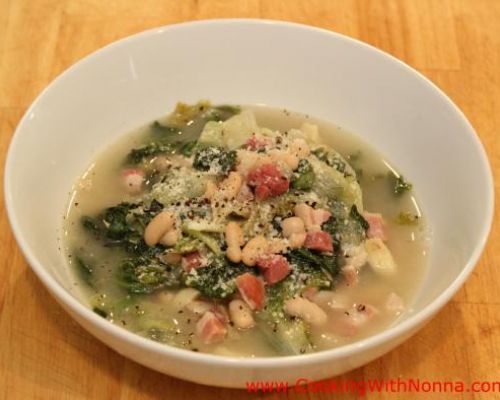 Ingredients
For 4 Person(s)
For the Escarole:
2

pounds

escarole

1

cup

diced pancetta

2

cups

cannellini beans

4

cloves of garlic

4

cups

chicken broth

extra virgin olive oil

salt & fresh black pepper

grated Pecorino cheese
Directions
In a large saute` pan add 1 Tbs of EV olive oil and the cubed pancetta.

Saute` the pancetta for 2 minutes and add the crushed garlic. Saute` for an additional 2 mins.

Add the escarole to the pan and saute` for a few minutes until they all become soft and the volume decreases significantly.

Add the chicken broth and the Cannellini beans. Let everything cook for about 15 minutes at medium flame.

Serve with plenty of Pecorino cheese and fresh black pepper as desired.
Reviews
Thursday, 11 October 2018
Made today but my family used the pancetta I bought to make this dish. Had to use regular thick cut ...
See Full Review >>
- Nassaur
Thursday, 14 December 2017
Very good , my guests enjoyed it very much ! Easy
- bflotoni@gmail.com
Thursday, 08 September 2016
Love this recipe, my Nonna always added carrots so I did too ..YUM
- Danielle Marie