Friselle of Nonna Romana
Friselle are a very versatile bread that can be garnished with just about anything: tomatoes, olive paste or can be used to make your favorite Bruschetta.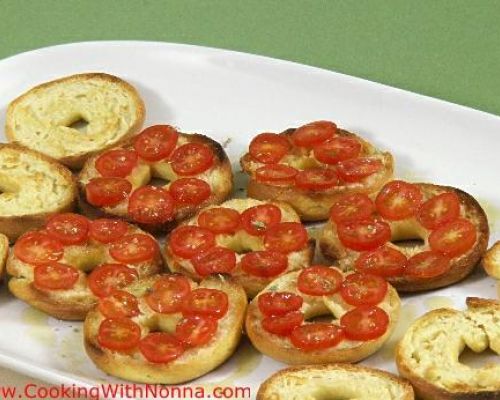 Ingredients
For 8 Dozen(s)
For the Friselle
2

pounds

fine semolina

2

cups

lukewarm water

1

cup

olive oil

1

tablespoon

salt

1

ounce

yeast
Directions
Put the water in the bowl of a Stand Mixer and add the yeast. Let the yeast completely melt.

Add the salt and Olive Oil. Let the salt melt in the fluids.

Add the semolina and let the stand mixer work all the ingredients for about 15 minutes until the ingredients have become a well amalgamated ball of dough.

On a wood board, cut a small piece of dough and roll it with your hands into a long stick about 3/4" thick.

Cut the stick into sections of about 5" long and unite the ends by pressing the ends together with your fingers to form a small circle or a Frisella.

Make all you Friselle and put them on a baking sheet.

Once you have made all of them, place the baking sheet in a warm location of the house so that the Friselle can raise for about 30 Mins.

Pre-heat the oven at 425F and bake the Friselle for 10 Mins.

After 10 Mins., flip all the Friselle and bake them for an additional 10 Mins.

Then, take each Frisella and with a very sharp knife, cut them in half and place both halves back on the baking sheet with the cut side facing down.

Bake all the Friselle for an additional 10 Mins at 425F and you are ready to enjoy them.
Categories:
Nonna Romana Sciddurlo
,
Appetizer Recipes
,
Bread and Focaccia Recipes
,
Puglia Recipes
,
Easy Recipes
,
All Recipes
,
Christmas Recipes
,
Thanksgiving Recipes
,
Easter Recipes
,
Valentine's Day Recipes
,
Super Bowl Recipes
,
St. Joseph Day Recipes
,
Carnevale Recipes
,
Mother's Day Recipes
,
Father's Day Recipes
,
Memorial Day Recipes
,
4th July Recipes
,
Labor Day Recipes
,
Valentine's Day  Recipes
,
Easter Dinner Recipes
,
Summer Appetizer-Side Recipes
,
Diabetic Appetizer Recipes
,
Heart Friendly Appetizers Recipes
,
Vegetarian Appetizer Recipes
,
Vegan Appetizer Recipes
,
Mediterranean Diet Appetizer Recipes
,
Thanksgiving Appetizers and Sides Recipes
,
Christmas Appetizer Recipes
,
Easter Appetizer and Side Recipes