Grilled Eggplant
Grilled Eggplant... an excellent appetizer that everyone loves.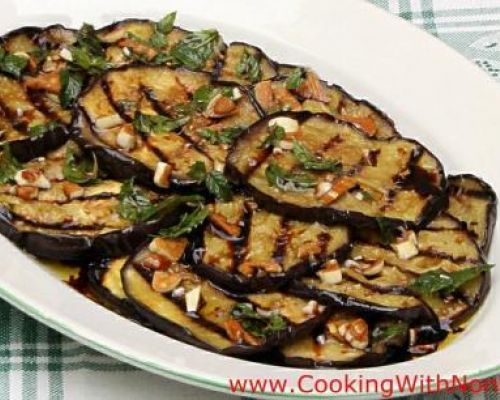 Ingredients
For 1 Person(s)
For the Eggplant:
1

medium eggplant

2

cloves garlic

1

tablespoon

fresh mint, chopped

4

tablespoons

balsamic vinegar

extra virgin olive oil

salt
Directions
Wash the eggplant and cut it in round slices of 1/4" thick.

Dip each side of the eggplant slices in EV olive oil and put them on a skillet or on the BBQ.

Cook each slice until lines have formed and the eggplant has softened.

Put all the slices in a serving plate. Sprinkle some salt as desired.

In a bowl, mix the balsamic vinegar, the garlic chopped finely and the mint cut grossly. Mix well and spread it over the eggplant slices.

Drizzle some EV olive oil over the eggplant slices.

Let the eggplant marinate for 2 hours and serve.
Categories:
Nonna Romana Sciddurlo
,
Appetizer Recipes
,
Puglia Recipes
,
All Recipes
,
Christmas Recipes
,
Thanksgiving Recipes
,
Easter Recipes
,
Valentine's Day Recipes
,
Super Bowl Recipes
,
Mother's Day Recipes
,
Father's Day Recipes
,
Memorial Day Recipes
,
4th July Recipes
,
Eggplant Recipes
,
Labor Day Recipes
,
Summer Appetizer-Side Recipes
,
Gluten Free Appetizer Recipes
,
Vegetarian Appetizer Recipes
,
Vegan Appetizer Recipes
,
Mediterranean Diet Appetizer Recipes
,
Thanksgiving Appetizers and Sides Recipes
,
Christmas Appetizer Recipes
,
New Year's Eve Recipes
,
Easter Appetizer and Side Recipes
Reviews
Saturday, 12 May 2018
Molto bene, I love it
- Sanny
Thursday, 14 December 2017
It's hard for me to rate any eggplant recipe anything but 4. I so love eggplant. This recipe, exactl...
See Full Review >>
- Buff