Meatloaf - Polpettone Barese Recipe
Meatloaf Recipe Barese style, with potatoes, provolone and mortadella. The perfect dish to make on chilly days. I warms up the house and your soul.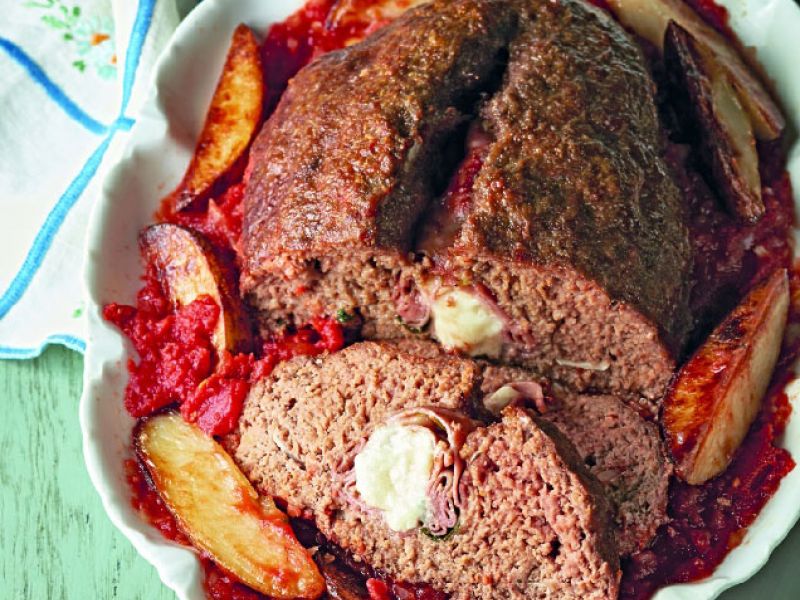 Ingredients
For 6 Person(s)
For the Sauce:
3

tablespoons

extra virfin olive oil

1

medium onion, chopped in 1/4 cubes

28

ounces

crushed tomatoes

1/2

teaspoon

salt
For the Meatloaf:
2

pounds

ground beef

3

cloves of garlic, shaved

1/2

cup

plain bread crumbs

1

cup

pecorino Romano cheese

6

large eggs

3

tablespoons

extra virgin olive oil

1/4

teaspoon

salt

1/4

black pepper

1/4

pound

Mortadella

4

ounces

sharp provolone

10

sprigs

fresh parsley

3

medium sized potatoes, cut in wedges

3/4

cup

water
Directions
Pre-heat the oven at 450F

Slice the potatoes in wedges and put aside.

Prepare the tomato sauce: In a sauce pan, add 3 Tbs of EV olive oil and the sliced onion. Saute the onion until it becomes translucent and add the crushed tomatoes. Let it cook for about 15 minutes and set aside

In a large bowl, add the ground beef, the garlic, 3 Tbs of fresh chopped garlic, the bread crumbs, the pecorino cheese, the eggs, 3 Tbs of EV olive oil and 5 Tbs of the tomato sauce. Mix everything together very well.

In a large baking pan, put a thin layer of tomato sauce. Move the ground beef mix to the pan and spread it long way and with a valley at the center.

Deposit the slices of Mortadella at the center of the meat, followed by sticks of provolone and several sprigs of fresh parsley.

Sprinkle fresh black pepper over the center, as desired.

Take the ground beef from both sided of the pan and fold it over the center stuffing covering everything.

Add the slices potatoes on the sides of the pan.

Add 3/4 cups of water to the pan.

Sprinkle 4 Tbs of tomato sauce over the potatoes, the remainder of the tomato sauce spread over the meatloaf.

Add a generous sprinkle of pecorino cheese over the meatloaf and the potatoes. Sprinkle fresh black pepper over the potatoes and the meatloaf.
Recipe Notes
PS: You can substitute the meat with any other type of meat that you prefer. You can also substitute the Mortadella with Salami, Prosciutto or Ham. Further the Provolone can be substituted with other cheeses!