Nonna Edda's Ricotta Pie
A sweet ricotta pie made with a PASTA FROLLA crust.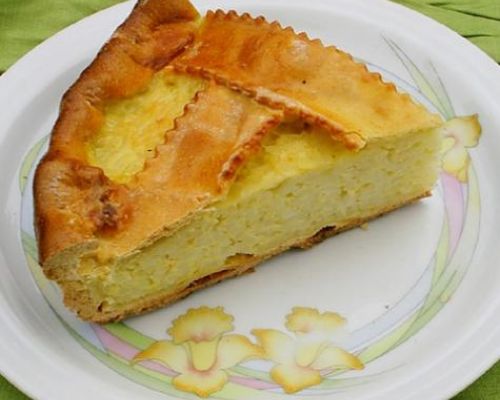 Ingredients
For 8 Person(s)
For the Crust:(To make a lattice double the recipe
2

cups

all purpose flour

1

cup

sugar

4

ounces

butter, at room temp

2

large eggs

1/2

teaspoon

lemon rind, grated
For the Filling:
3

pounds

ricotta cheese (whole milk or part skim according to your dietary needs)

1

cup

sugar (or to your taste)

1 1/2

tablespoons

vanilla extract

1 1/2

ounces

anisette (or to your taste)

1

orange rind, grated

8

eggs, beaten (if you are using part skim ricotta, 8 eggs should be enough. If you are using whole milk ricotta, you may need to add one or two more eggs if the filling appears to be too thick)

Citron (if you like candied fruits in your baked products)

marascino cherries, halved
Directions
Mix all dough ingredients together. Place dough in wax paper or saran wrap and put in the freezer for at least 30 minutes before trying to roll.

When ready, remove dough from freezer and roll out onto a floured surface with a floured pin. Roll dough to 1/8 inch thickness to fit a 9 x 13 inch glass pan.

Mix all pie filling ingredients together.

Place the ricotta into the pie shell and make your lattice on top if desired. If using lattice, beat one egg and use to stick lattice to shell, if required, and to brush the top of the lattice to give a golden sheen when baked.

If you are going to make lattice for the top of the pie, place dough back in freezer until firm. Remove, roll and cut into strips (use a zig-zag cutter for a more decorative look)

Place into 350° oven. Total cooking time will be about 1½ hours. At the 50 minute mark, if you are using maraschino cherry halves, place them on top in between the dough strips (If you place the cherries on top too soon, they will sink into the pie. Cook for another 45 minutes or until a tester comes out clean.

If you are using a glass pan you will be able to tell if the crust is done to your liking. If it needs more cooking time, cover the top of the pie with a sheet of aluminum foil.

Remove from oven and cool.
Recipe Notes
There are a few options for this pie. If you double the dough recipe you will have enough dough to make a lattice for the top of the pie. If you do not care for maraschino cherries you can leave them off the top of the pie. Mom uses whole milk ricotta, you can use part skim if that is your preference. The sugar in the filling can be less or more to adjust the sweetness to your personal taste. The anisette can also be adjusted to your personal liking (dip your finger into the filling and give it a taste. I won't tell anyone) I have not tried this recipe with SPLENDA or STEVIA so I cannot tell you how it will turn out. Also, this pie is made with PASTA FROLLA . This is NOT your conventional pie crust. When working with the dough, if it splits or whatever, when you are rolling it or placing it in the pan, just take a piece of the dough and patch the problem area. Unlike conventional pie crust, when you bake your pie the heat will actually bond the pieces together and you will not even know where your pie was patched. If you have left over dough, roll to cookie thickness 1/8 to 1/4 inch and use cookie cutter to punch out cookies and bake until golden.
Categories:
Dessert & Cookie Recipes
,
Intermediate Recipes
,
All Recipes
,
Christmas Recipes
,
Thanksgiving Recipes
,
Easter Recipes
,
Valentine's Day Recipes
,
Ricotta Recipes
,
Passover Recipes
,
Mother's Day Recipes
,
Father's Day Recipes
,
Easter Cakes and Cookies
,
Valentine's Cake and Cookie Recipes
,
Cakes and Pies Recipes
,
Thanksgiving Dessert Recipes
,
Cheesecake Recipes
,
Christmas Dessert Recipes