Pan D'Oro Tiramisu
Luscious sweetened mascarpone cheese surrounds pan d'oro soaked in rich espresso coffee and sprinkled with shaved chocolate and dusted with decadent cocoa. The "PICK ME UP" of desserts!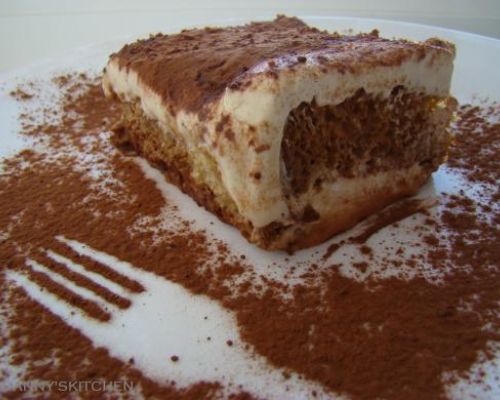 Ingredients
For 12 Person(s)
For the Tiramisu`:
1

Pan D'oro (with icing sugar packet-approx 1/4 cup)

1

pound

mascarpone (please use a good quality brand)

5

egg yolks

1

cup

whipping cream (35%)

1 1/2

cups

brewed espresso coffee (allow to cool)

1/2

teaspoon

vanilla extract (fresh vanilla bean may be used)

dark or milk chocolate for shaving

unsweetened cocoa for dusting
Directions
Begin by slicing pandoro into long strips about 1/2 inch thick.

Place them on a tray and bake in a 350 f oven until golden brown.

Allow baked strips to cool and become hard.

Place egg yolks and icing sugar from pandoro packet in a bowl and whip until thick .

Next, add the mascarpone and whip for 2 minutes until well blended and creamy.

In another bowl, beat whipping cream until stiff then gently fold it into the bowl with the mascarpone mixture.

The mixture is now ready for assembly.

Spread a thin layer of the mixture on the bottom of a baking dish.

Add the 1/2 teaspoon of vanilla to the espresso and begin dipping pandoro strips.

Place strips in the baking dish until the bottom is covered.

Place another layer of mascarpone mixture evenly on top and sprinkle with shaved chocolate and cocoa. Repeat with another layer of coffee dipped pandoro strips, mascarpone mixture, chocolate shavings and cocoa.

Cover the tiramisu with plastic wrap and refrigerate overnight .
Recipe Notes
There are several recipes for tiramisu all with the same basic principal but with slightly different flavor variations. Some people choose to add sweet wine such as marsala or other alcohol to the coffee for example. The vanilla and coffee infused pandoro soaks up the creaminess of the sweet mascarpone layers creating a decadent and luxurious cake. This tiramisu will definitely "pick you up" on a bad day or any day. Make this Christmas or any special occasion memorable with this wonderful treat.
Reviews
Thursday, 14 December 2017
made this for Christmas, very light and everyone loved it!
- pizzsa