Panettone Stuffing
Panettone Stuffing, to complement your Thanksgiving bird.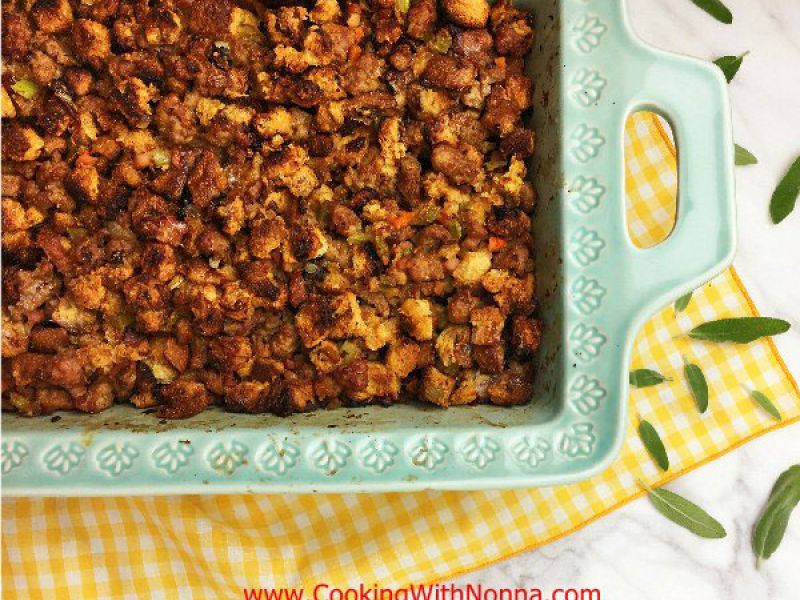 Ingredients
For 8 Person(s)
For the Stuffing:
2 1/5

pounds

Panettone, cut into 1 inch cubes

1/4

cup

extra virgin olive oil, divided

3

large shallots, sliced

3

stalks celery, cut into a 1/4 inch dice

1

large carrot, cut into a 1/4 inch dice

1

pound

Italian Turkey Sausage, casing removed

4

ounces

Pancetta, cubed

2

tablespoons

fresh sage leaves, torn

2 1/4

cups

Chicken or Turkey Stock

2

large eggs

1/2

cup

salted butter, melted

salt and black pepper as desired

1/2

cup

Parmigiano Reggiano cheese
Directions
Preheat your oven to 400 degrees. Butter a large oven proof casserole dish and a sheet of aluminum foil large enough to cover it. Set aside.

Spread the cubes of Panettone onto two 13x18 inch baking sheets. Bake until the panettone has just begun to color, about 10 minutes. Remove from the oven and transfer to a large mixing bowl.

Put a large sauté pan over a medium flame and heat 2 tablespoons of the oil. Add the shallots, celery and carrots to the pan and cook until soft, about 7-10 minutes. Add the remaining oil and turn the heat up slightly. Add the sausage and Pancetta and sage to the pan and cook until the sausage has browned, about 10-12 minutes. Remove from heat and add the mixture to the mixing bowl with the panettone.

In a separate mixing bowl whisk together the stock, eggs and melted butter. Pour over the panettone mixture little by little and mix well until all the liquid has been absorbed. It may appear dry at first, just keep mixing. Turn out into your buttered dish and cover with the foil, butter side down.

Bake covered for 20 minutes. Uncover and bake an additional 10 minutes, or until the top has colored slightly.

* To make ahead the night before , prepare up up until step 4 and refrigerate. Leave out for 2 hours before baking and bake as directed.