Perfect Pasta Fra' Diavolo
My little boy loves foods with a kick, and this is his favorite spicy pasta dish. It is made with good quality tomatoes, red pepper flakes, olive oil, and handfuls of fresh and fragrant herbs. This pasta is requested again and again and makes the perfect addition to any holiday table.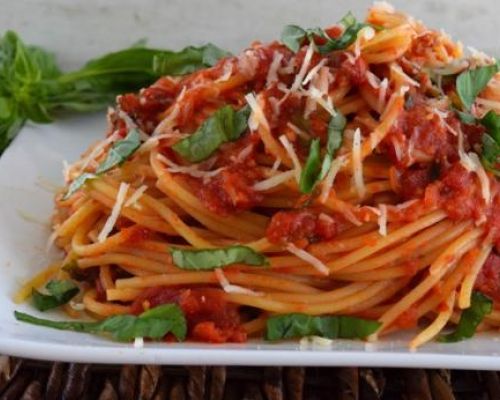 Ingredients
For 4 Person(s)
For the Pasta:
1

pound

spaghetti

1

tablespoon

salt for pasta water

1/4

cup

extra virgin olive oil

6

cloves garlic, minced

1

teaspoon

red pepper flakes

1/2

sweet, fresh onion

14

ounces

crushed tomatoes

14

ounces

whole canned tomatoes

1/2

teaspoon

salt

1/4

teaspoon

black pepper

4

tablespoons

sugar

1/4

cup

freshly grated parmesan cheese

1/2

cup

chopped fresh herbs (parsley, basil, oregano)

fresh basil
Directions
Cook the spaghetti in heavily salted water per package directions. Drain, set aside, and keep warm.

Heat olive oil in a large pot over medium heat.

Add the garlic and red pepper flakes and let cook for a minute.

Place the onion in a food processor and puree. Add it to the pot and cook for 4 minutes.

Add the crushed tomatoes and stir.

Pick up the whole tomatoes and squish them with clean hands. Add them to the pot along with their juices.

Add the salt, pepper, and sugar.

Reduce the heat to low and cook for about 20 minutes with a lid on.

Remove the lid and add the herbs and Parmesan to the sauce.

Taste the sauce to ensure it is balanced. It should be fragrant, flavorful, and slightly sweet. Add more salt or sugar as needed.

Combine the pasta and sauce in a large serving dish. Toss gently.

Serve with a sprinkle of fresh basil and Parmesan cheese.
Recipe Notes
This sauce is very forgiving and can be adjusted to taste. If you don't like things as sweet, feel free to cut down on the sugar. Also, if you like more spiciness, increase the red pepper flakes or the garlic. You can't go wrong with this sauce.
Categories:
First Course Recipes
,
Italian Pasta Recipes
,
Intermediate Recipes
,
All Recipes
,
Christmas Recipes
,
Thanksgiving Recipes
,
Easter Recipes
,
Valentine's Day Recipes
,
Mother's Day Recipes
,
Father's Day Recipes
,
Spaghetti Recipes
,
Italian Pasta Sauces
,
Valentine's Day  Recipes
,
Thanksgiving First Course Recipes
,
Christmas First Course Recipes
,
Easter First Course Recipes
Reviews
Friday, 31 January 2020
This recipe is AMAZING!!! I make it regularly and everyone loves it. I have even shared it with a fe...
See Full Review >>
- weisslhp