Rigatoni con La Pajata
Rigatoni con Pajata. When yo visit Rome, do not leave unless you have tried this very tratidinal dish.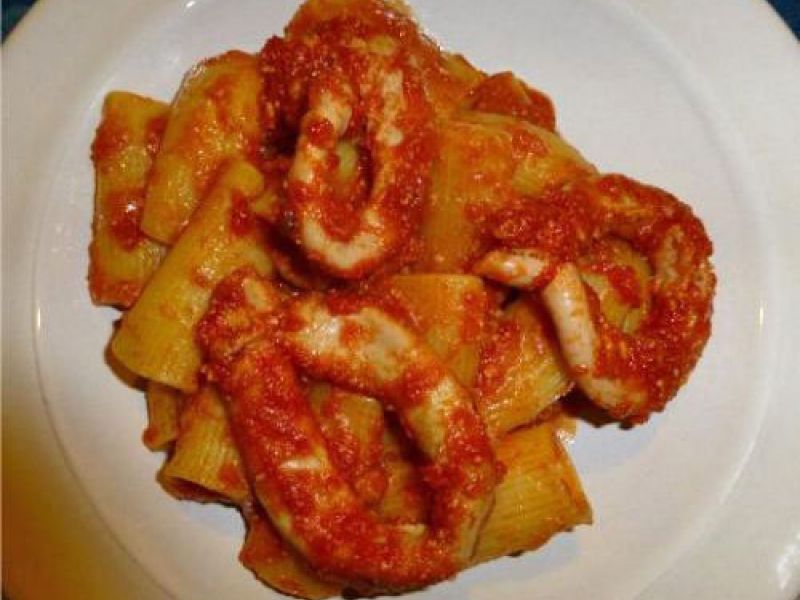 Ingredients
For 4 Person(s)
For the Pajata:
1

pound

rigatoni

2

pounds

Pajata of Veal or Lamb

4

ounces

pancetta cut in thin strips

4

cups

peeled tomatoes

medium onion

1

stalk of celery

1

tablespoons

fresh parsley

4

cloves garlic

3

cloves

1/2

cup

white wine

grated Pecorino cheese

salt and pepper

1

cup

vinegar
Directions
First of all La Pajata must be freed of the skin layer that surrounds it. With a small sharp knife, make a small cut on one end of the intestine and pull it as if you were removing a glove. Do this delicately as you do not want to break open La Pajata.

Now you need to form little donuts. With a cooking string, every 7" ties two knots distanced about 1/2" from each other. Repeat for the entire length of the intestine. Cut each section and then tie the two extremities together to form little donuts.

Put all the donuts in a drainer , wash them under fresh water and then put the drainer with the donuts in a bowl full of water and the vinegar. After 10 minutes, rinse and let the donuts drain well.

In a pot, add 4 Tbs of EV olive oil, the pancetta, the garlic, the onion and the celery and let them saute`.

Once the garlic turns golden, remove it and add La Pajata. Add some salt, pepper and the cloves and continue to saute`.

Add the white wine and once it has evaporated, add the tomatoes and a cup of hot water.

Let everything cook at low flame for about two hours. If the sauce gets dry add some more hot water. The final sauce should be rather dense.

Boil the rigatoni and once they very Al Dente, drain them well and add them to the pot with the sauce to complete the cooking process.

Serve with pecorino cheese and fresh parsley.
Recipe Notes
Even if most visitors of Cooking with Nonna are Italian-Americans, I'm certain that many of you have never heard of "La Pajata" unless you are of Roman origins. Therefore, it is important to give you some historical perspective about this recipe.

The best dishes representing the Italian "Cucina Povera", where born out of the necessity to use everything that could be obtained at a low cost. And in the case of meats, the only choices were to use the parts of the animals that otherwise would be discarded: the head, feet, tail, liver, tripe, tongue, spleen (especially in Sicily), etc., etc.. The Roman neighborhood Il Testaccio, was the birthplace of many dishes of the Roman Cucina Povera. For example: "Trippa alla Romana", "Coda alla Vaccinara", "Coratella con Carciofi" and most of all "La Pajata". It is not by pure chance that these dishes were born in Il Testaccio. The reason is that this neighborhood was home to the main slaughter house of Rome and its workers, who were called Scortichini, were compensated with a salary and, as additional compensation, they received the Fifth/Fourth (5/4) which consisted of all the meat cuts that could not be sold to the rich. The 5/4 rounded up their salary as they would sell it or use it to barter for other products.

La Pajata is none other than the intestine of a milk fed, an "un-weaned" veal or lamb that has absolutely have never eaten grass. These intestines must still contain the milk drank from their mothers.

Now, if you have overcome the initial impulse of disgust from this explanation and if you are able to find the prime ingredient, then please continue with reading and preparation of this recipe, otherwise… maybe you should consider another recipe but for sure you will have missed a delicacy.
Enjoy,
Nonna Beatrice Bassanetti