Risotto with Shrimp, Lemon and Rosemary
Risotto with Shrimp, Lemon and Rosemary, a great dish to celebrate summer!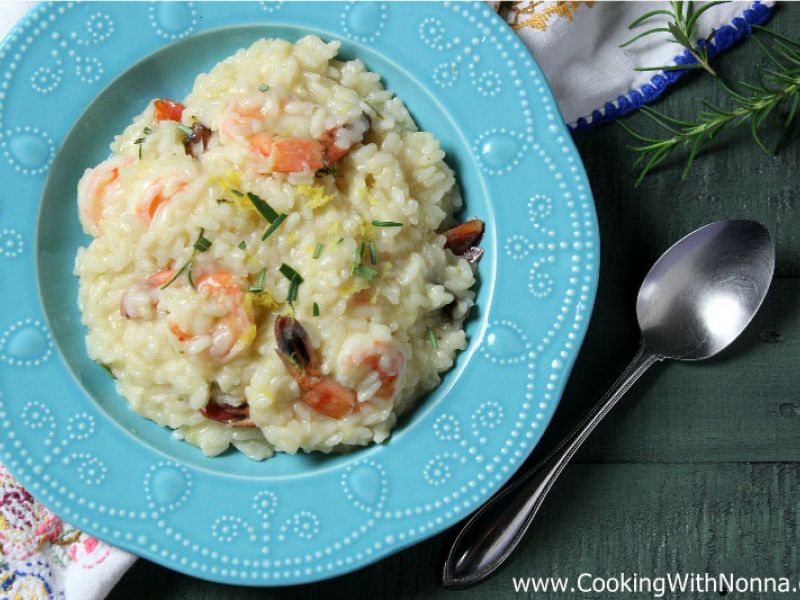 Ingredients
For 4 Person(s)
For the Risotto:
1

medium onion, finely chopped

3

tablespoons

extra virgin olive oil

3

cloves garlic, finely chopped

1 1/2

pounds

shrimp, shelled and deveined with tail on

red pepper flakes, as desired

1

pound

arborio rice

1/2

cup

white wine

8

cups

boiling fish stock or vegetable broth

1

lemon, juice only

2

sprigs of fresh rosemary, finely chopped, divided

1

lemon, zest only, divided
Directions
In a large pan add the extra virgin olive oil, the onion and the garlic. Add red pepper flakes as desired.

Saute the onion and garlic for a few minutes and add the shrimp. Let the shrimp saute until fully cooked. About 7-8 minutes. Remove the shrimp from the pan and set aside.

Add the rice to the pan and toast it for abour 3-4 minutes. Add the wine and stir until the alcohol has evaporated, about 5 minutes.

Begin to add the fish stock one cup at the time and continue stirring adding more stock as it is absorbed m. Cook until the rice is al dente, about 20 minutes. Add the shrimp, lemon juice, half of the lemon zest and half of the rosemary.

Stir for 1-2 minutes, plate and garnish with the remainder of the lemon zest and rosemary.
Reviews
Saturday, 16 June 2018
I made this tonight and it was wonderful. Shrimpy and lemony and creamy risotto! Wonderful! I did ad...
See Full Review >>
- FrankieC