Spaghetti with Clams
Clams over spaghetti with a light tomato sauce... a family favorite at holidays and the summer!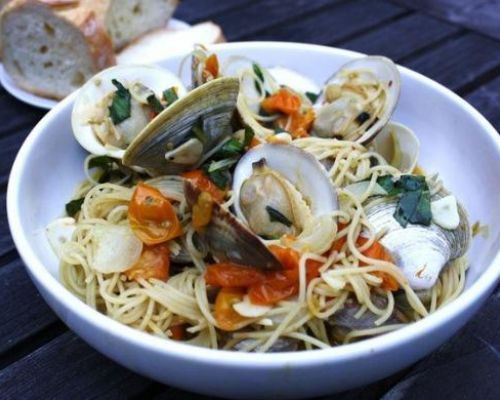 Ingredients
For 4 Person(s)
For the Spaghetti:
2

dozen

Little Neck Clams

1

pound

fresh tomatoes

6

cloves garlic

1/2

cup

white wine

fresh parsley

hot pepper

extra virgin olive oil

salt
Directions
Wash the clams under cold water and set aside.

In a large pan, add 4 Tbs of EV olive oil and the garlic cloves crushed or minced as you prefer.

Saute` the garlic until lightly golden and add the tomatoes.

Add the wine. Salt and hot pepper as desired.

Cook the tomatoes for about 10 mins. Add the clams and half of the parsley.

Cook the clams for about 10 mins. Stir them occasionally. At the end add the remainder of the parsley.

Any clams that have not opened, discard them as they are most likely bad. Do not even try to open them.

Cook the spaghetti al dente and pour in the pan with the clams.

Toss for 2 minutes and serve.
Recipe Notes
PS: in absence of Little Neck clams, you can use Cherry Stones clams which are larger. In this case, you need to open each clam and remove the fruit and save the water. The clams should be separated from the water and chopped. The water should be filtered before adding it to your sauce preparation.

Categories:
Nonna Romana Sciddurlo
,
First Course Recipes
,
Fish Recipes
,
Puglia Recipes
,
All Recipes
,
Christmas Recipes
,
Thanksgiving Recipes
,
Easter Recipes
,
Valentine's Day Recipes
,
Mother's Day Recipes
,
Father's Day Recipes
,
Memorial Day Recipes
,
4th July Recipes
,
Labor Day Recipes
,
Clams - Vongole Recipes
,
Christmas Fish Recipes
,
Spaghetti Recipes
,
Italian Pasta Sauces
,
Easy Pasta Recipes
,
Valentine's Day  Recipes
,
Easter Dinner Recipes
,
Mediterranean Diet First Course Recipes
,
Thanksgiving First Course Recipes
,
Christmas First Course Recipes
,
Easter First Course Recipes
,
Seafood Pasta Recipes