Spezzatino di Vitello - Veal Stew
Spezzatino di Vitello - Veal Stew: This dish is from Parmesan recipe book but i have decided to alter some ingredients and steps for personal taste.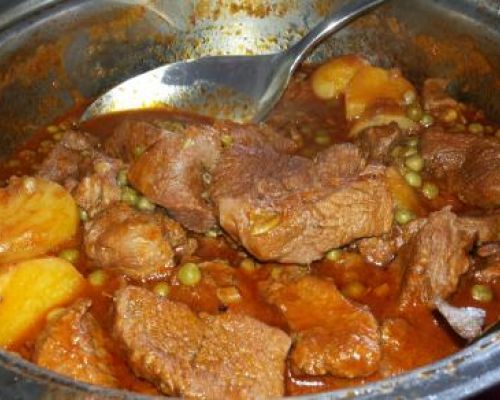 Ingredients
For 6 Person(s)
For the Spezzatino:
2

pounds

veal, cubed

2

ounces

grfinely diced smoked pancetta

2

ounces

finely chopped onions

2

ounces

finely chopped celery

2

ounces

finely chopped carrots

1

cup

chicken broth

2

cloves garlic

1

bay leaf

1

teaspoon

dried thyme

2 1/2

ounces

tomato sauce

1

pound

peeled, cubed Potatoes

7

ounces

green peas

3

tablespoons

extra virgin olive oil

1/2

cup

dry red wine

salt and pepper to taste
Directions
Saute' the pancetta with the olive oil.

Add the cubed Veal and let it brown.

Add the chopped onions, celery & carrots, letting out the natural water of the vegetables.

Then pour in the red wine, leave it evaporate.

When you see that the wine has evaporates, add the tomato sauce and the broth.

Cover and simmer for 20 min.

Then, add the potatoes, garlic, thyme, salt and black pepper, simmering for another 20min. then add the green peas.

After adding the green peas, leave it cooked for some minutes and serve hot.
Recipe Notes
The Veal can be substituted with beef.