Whole Wheat Orecchiette - Rabe - Chicken Sausage
Whole wheat Orecchiette with Broccoli Rabe and Chicken sausage... going healthy!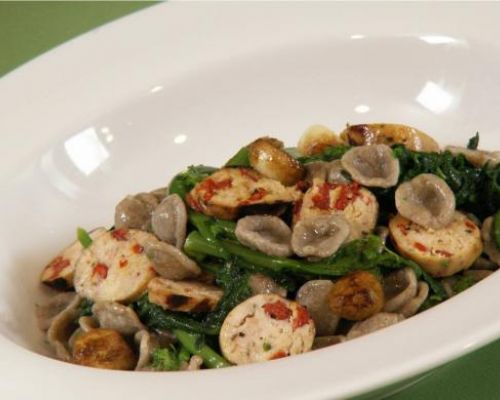 Ingredients
For 4 Person(s)
For the Orecchiette:
1

pound

whole wheat orecchiette

1

pound

broccoli rabe

1/2

pound

chicken sausage

1/2

cup

sundried tomatoes cut julianne style

6

cloves garlic, crushed or chopped as desired

1/4

cup

extra virgin olive oil

hot pepper (as desired)

salt
Directions
Clean the Broccoli Rabe by removing the tips of the stems and cutting them in 2 or 3 pieces depending on their size. The thicker part of the stems should be split in half. Wash several times and set aside.

On a skillet or a BBQ grill the chicken sausage until well cooked and to your liking.

Cut the chicken sausage in slices 1/4" thick and set aside in a warm place.

Bring a large pot of salted water to a boil and add the Orecchiette.

Once the water boils again, wait 1 minute and add the Broccoli Rabe.

Taste one Orecchietta, once it is Al Dente, drain the hot water and leave only 1/2 cup of water in the Orecchiette.

Meantime, put the EV olive oil in a sauté pan and let it get very hot. Add the garlic and hot pepper, as desired.

In the last minute, add the sun dried tomatoes and once the garlic turns golden add the Orecchiette and Broccoli Rabe.

Saute` for two minutes and serve.
Categories:
First Course Recipes
,
Italian Pasta Recipes
,
Chicken Recipes
,
Easy Recipes
,
All Recipes
,
Valentine's Day Recipes
,
Broccoli Rabe Recipes
,
Orecchiette Recipes
,
Sausage Recipes
,
Mother's Day Recipes
,
Father's Day Recipes
,
Memorial Day Recipes
,
Labor Day Recipes
,
Homemade Pasta Recipes
,
Valentine's Day  Recipes
,
Mediterranean Diet First Course Recipes