Easter Calzone - Scalcione di Cipolle
Easter Calzone: On Good Friday... the tradition is to have Scalcione.
This recipe is featured in the Cooking with Nonna Cookbook!
Ingredients
For 8 Person(s)
For the Dough:
1

pound

all purpose flour

1

cup

white wine

1/4

cup

extra virgin olive oil

pinch of salt
For the Filling:
6

bunches of scallions

1/2

cup

white wine

1/2

cup

crushed tomatoes

1

cup

chopped Kalamata or Gaeta olives, pitted

1/4

cup

chopped fillets of anchovies

hot pepper

salt
Directions
Prepare the scallions by cleaning then, washing them and cutting them into pieces of 1 1/2" long.

In a large pot add 4 Tbs of EV olive oil, the scallions, the tomatoes and the olives and the wine.

Add salt and hot pepper to taste.

Let the scallions cook at medium heat for about 15 mins.

Remove from the stove, drain the juices and let cool off well.

In a bowl add the flour, the oil and the wine (lukewarm). Also add a pinch of salt.

Cut the dough in half. Take one half and with a rolling pin flatten it into a thin round sheet of dough large enough to cover the bottom of your baking pan (12" wide). Before you lay the dough in the pan, apply a very thin film of EV olive oil to the pan. Position the dough in the pan and then spread the scallions uniformly on the dough. Keep the scallions within 1/2' from the border of the dough. Spread the anchovies over the scallions.

Take the other half of the dough and flatten it with the rolling pin into a round sheet that you will use the cover the scallions. Once you place the dough over the scallions cut any excess dough and with a fork seal the two sheets of dough together.

With your fingers, apply a thin film of EV olive oil over the entire surface of the scalcione. Then, with a fork, puncture the surface every 2" and bake for 60 mins. at 400F.
Please Follow me on Instagram!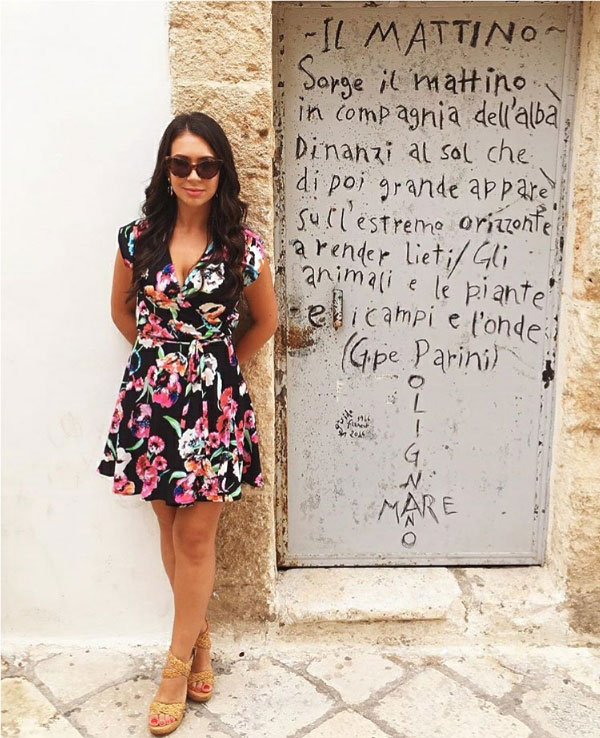 Reviews
Thursday, 14 December 2017
Easter without il scallion is not Easter. Brava nonna.
- nicofau
Thursday, 14 December 2017
I cant believe i found this recipe. My mom was born in Mola di Bari.. My mother always made this dur...
See Full Review >>
- MGMBARI
Thursday, 14 December 2017
My mom passed 35 years ago but she made this every Good Friday.What a treat to find the recipe. Graz...
See Full Review >>
- Deaconlady
Thursday, 14 December 2017
Thank you for posting recipes that I have grown up with. We are from mola di Bari and my two sons en...
See Full Review >>
- mfcacace
Thursday, 14 December 2017
Il ritorno alla mia gioventu\' passata in Mola di Bari. Grazie Rosella!
- FrancoRotondi
Thursday, 14 December 2017
OMG! I have been looking for this recipe for a long time. My Aunt Annie used to make a calzone that...
See Full Review >>
- JoGot2
Thursday, 14 December 2017
I love this recipe and will make it on Friday. I only wish you would've showed us how it comes out o...
See Full Review >>
- ahawk61
Thursday, 14 December 2017
I made this for the first time last night, and it will be our Good Friday tradition. The crust is wo...
See Full Review >>
- Monaco
More Reviews