Octopus in its Own Water - Polpi in Acqua Loro
Octopus in its own water... fresh from the Adriatic Sea.
Ingredients
For 2 Person(s)
For the Polpi:
1

pound

fresh octopus (Arricciati) (See note below)

1

medium onion

extra virgin olive oil

salt
Directions
Rinse the octopus in fresh water and drain well.

Add 4 Tbs of EV olive oil to a saute` pan.

Cut the onion into small pieces and add into the pan.

When the onion is almost translucent, add the octopus. Salt to taste.

Cover the pan and cook for 15-20 minutes... depends also on the size of the octopus.

Serve the octopus with the onions as garnish.
Recipe Notes
Polpi Arricciati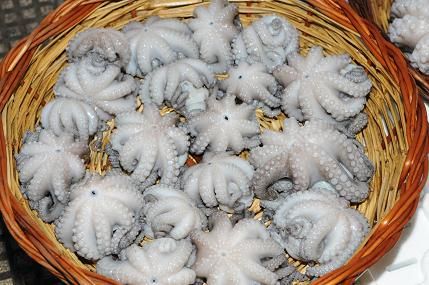 The process of "Arricciare" the octopus comes from a very old tradition in the Bari area. Essentially once the fishermen catch octopus in the rock formations close to the shore "Polpi di Scoglio", they then proceed to shore and start the process. In essence it is principally a tenderizing process but also a cosmetic process.

The fisherman, will find a rock formation on the shore that is flat and smooth and begin to slam each octopus against the rocks several times.

Throughout the entire process he will have plenty of fresh sea water available to continuously rinse the octopus.

With a flat piece of wood he will then hit the octopus for many more times.

Then, he will remove a very this film of skin from the octopus leaving the octopus with a white/grayish skin tone.

Lastly he will put the octopus in a flat wicker basket and shake them in a circular motion. This process will make the tentacles of the octopus curly and turn the octopus in a snow ball.

Now they are ready to be eaten either raw or used in the many recipes available.
Have Fun!!!
Categories:
Nonna Romana Sciddurlo
,
Entree Recipes
,
Fish Recipes
,
Puglia Recipes
,
Easy Recipes
,
All Recipes
,
Christmas Recipes
,
Father's Day Recipes
,
Memorial Day Recipes
,
4th July Recipes
,
Octopus Recipes
,
Labor Day Recipes
,
Christmas Fish Recipes
,
Diabetic Entree Recipes
,
Gluten Free Entree Recipes
,
Mediterranean Diet Entree Recipes
Reviews
Thursday, 14 December 2017
Rosella il primo passo per arricciare i polpi e\' levare le ghiande d\'inchiostro(le malanere)e poi ...
See Full Review >>
- rcaputo
Tuesday, 12 December 2017
Buonissimi. Brava nonna Romana sei la migliore
- tlen