Baby Octopus Salad
This baby octopus salad is dressed with an emulsified lemon parsley dressing. The tartness of the lemon is the perfect compliment to this tender baby octopus.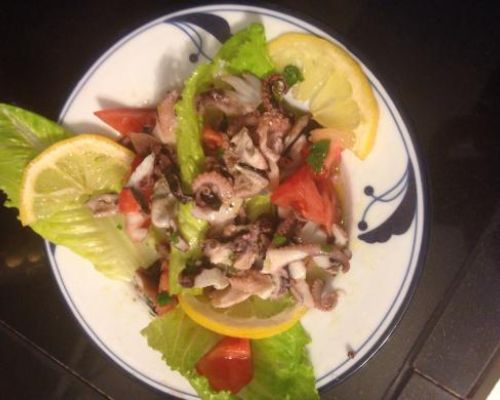 Ingredients
For 4 Person(s)
For the Salad:
2

pounds

Baby Octopus

3

carrots

1

medium onion

3

ribs of celery

2

lemons

1/4

cup

EVOO

1

bunch of parsley

1/4

teaspoon

salt

pinch of pepper
Directions
In a medium size pot filled with water, add octopus, coarsley chopped carrots, quartered onion, chopped celery and one whole lemon cut in half.

Bring pot to a boil, then lower heat to a simmer and cook for a total of 40 minutes.

Remove octopus from the liquid and discard rest of contents from pot.

Chop the octopus into small pieces but be careful not to chop the octopus too finely.

In a bowl, whisk the juice from a whole lemon into a quarter cup of extra virgin olive oil until dressing becomes emulsified. Add salt and pepper to taste then stir in the chopped parsley.

Line a plate with lettuce and place your desired portion of octopus on top of the lettuce.

Drizzle the lemon vinegarette over the octopus.

You can also add chopped tomatoes to this salad or you can serve this salad into a hollowed out tomato.
Recipe Notes
Since baby octopus is being used in this recipe, don't chop it too aggressively. Larger pieces are much more appetizing. If you prefer to use grilled octopus, boil the octopus for about 6 minutes less and then grill them briefly to obtain grill marks and the grill flavor. Rather than discarding the vegetables that you used in the boiling solution, you can save them and add them to a broth for a quick and easy soup. I never get the chance to do that, my dogs always get them as a treat. Octopus are mostly water so an uncooked octopus that is the size of your hand probably be about 1/5 that size after it is cooked.
Categories:
Appetizer Recipes
,
Fish Recipes
,
Easy Recipes
,
All Recipes
,
Christmas Recipes
,
Thanksgiving Recipes
,
Easter Recipes
,
Valentine's Day Recipes
,
Super Bowl Recipes
,
Mother's Day Recipes
,
Father's Day Recipes
,
Memorial Day Recipes
,
4th July Recipes
,
Octopus Recipes
,
Labor Day Recipes
,
Christmas Fish Recipes
,
Summer Appetizer-Side Recipes
,
Mediterranean Diet First Course Recipes
,
Thanksgiving Appetizers and Sides Recipes
,
Christmas Appetizer Recipes
,
New Year's Eve Recipes
,
Easter Appetizer and Side Recipes