Potato Gnocchi
Happy Birthday Rossella!! This is a basic Potato Gnocchi that can be topped with almost any sauce.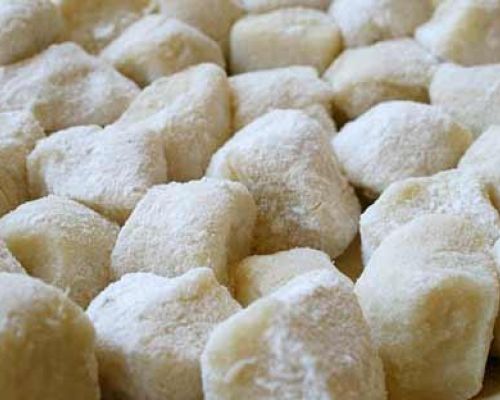 Ingredients
For 6 Person(s)
Recipe
2

Pounds Baking Potatoes (About 4 Potatoes)

1

1/2 Cups Of Flour

1

Egg

1

Teaspoon Salt

mybanner}
Directions
To cook gnocchi, always use a large pot of boiling, salted water, and remove them as soon as they float to the surface. If you overcook gnocchi they will turn to mush. Gnocchi don't keep well at room temperature; so if you are not cooking them right away, place them on a lightly floured baking sheet in the refrigerator. I would not keep any type in the refrigerator longer than a few hours. You can precook gnocchi made with potatoes and reheat by dropping back into boiling water. Generally gnocchi don't freeze well unless they have a good deal of flour added. Since you can prepare them so quickly, it is easier to make them fresh each time.
I find that baking my potatoes instead of boiling them adds a lot of flavor to the gnocchi and keeps them dry which reduces the amount of flour needed. I also use a fine mesh potato ricer which creates a more delicate textured gnocchi.
Bake your potatoes in their skins until fork tender. Place on a plate until they are cool enough to handle. Cut the potatoes in half, and scoop out the potato and press through a potato ricer into a bowl. Add the egg, and slowly start adding the flour a little at a time, mixing well with your hands and continue until you have created a soft workable dough. Knead gently only briefly until you have achieved a smooth, pliable if slightly sticky dough.
To shape the gnocchi, first break the dough into fist sized pieces, and roll each piece into a log about the thickness of your thumb on a lightly floured surface. Cut into 1 inch pieces. If desired, take a fork and place it against your work board. With it\'s back towards you, press each piece of dough with your index finger firmly up the length of the fork tines. Let the gnocchi fall back onto the board and continue with the remaining pieces in this manner. Place the prepared gnocchi on a lightly floured baking sheet and keep refrigerated until ready to use. To cook, drop carefully into salted boiling water and remove immediately as they have all floated to the surface. Drain and top with your sauce of choice.




The trick to Gnocchi is to not over knead the dough, and to use only as much flour as is needed to create a soft, workable dough. Knead your Gnocchi dough only as long as it takes for the ingredients to come together into a smooth dough. The longer you knead, the more flour you will use, resulting in a heavier Gnocchi. It is a good idea if you are new to gnocchi making to test your gnocchi before you prepare the whole batch. Drop a couple of gnocchi into boiling water and remove as soon as they come to the surface. If they fall apart, knead in a little more flour. If they hold up well, continue cutting the rest of your gnocchi.


none
Reviews
Thursday, 08 September 2016
This is the real traditional gnocchi.Simple and delicious.
- Anna Engdahl