Rigatoni, Artichokes and Sun Dried Tomatoes
Rigatoni, Artichokes and Sun Dried Tomatoes... what an explosion of colors and flavors!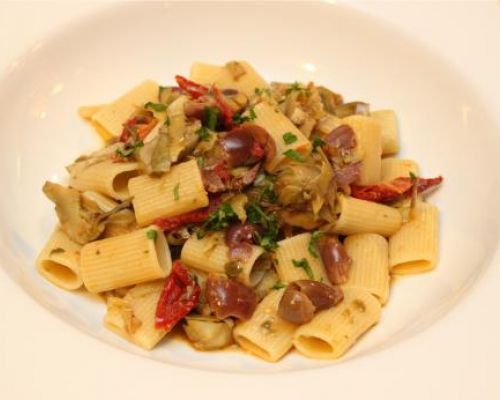 Ingredients
For 4 Person(s)
For the Pasta:
1

pound

Rigatoni

6

small artichokes thinly sliced

1/2

cup

sun dried tomatoes, sliced

1/2

cup

pitted olives (Gaeta or Kalamata), chopped

1/4

cup

capers, chopped

2

ounces

anchovies, chopped

1/2

cup

white wine

6

cloves garlic

extra virgin olive oil

fresh parsley

salt
Directions
Clean and thinly slice the artichokes and put them in a bowl with cold water.

In a large saute` pan add 4 Tbs of EV olive oil and the garlic and the peperoncino.

Once the garlic turns golden, add the drained artichokes. Let them saute for about 5 minutes. Keep on stirring them.

Once the artichokes have softened, add the sun dried tomatoes, the capers, the olives and the anchovies. Add some fresh parsley as well.

Saute for 2 minutes and add the white wine.

Let everything cook for about 10 minutes meantime boil the Rigatoni.

If the sauce gets dry add some pasta water.

Once the Rigatoni are cooked Al Dente, add them to the saute pan and toss them in the sauce for 2 mins. Add more pasta water if the pasta is too dry.

Add more fresh parsley and serve.

Optionally you can also serve with some Pecorino cheese,
Use the Code CWN20 to Get 20% OFF
On my New T-Shirts!