Chicken and Mushrooms Risotto
Chicken and Mushrooms Risotto: One word describes my risotto.....Mwahhhh!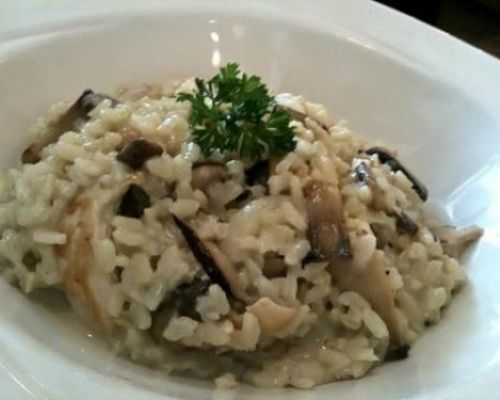 Ingredients
For 4 Person(s)
For the Risotto:
1/4

cup

extra virgin olive oil

2

cups

arborio rice

1/4

cup

verjuice

2/3

pound

chicken breasts, boneless, cut into 1/2" pieces

6

cups

chicken stock

3

tablespoons

butter

2

cloves of garlic

1

onion diced

1/4

teaspoon

chili flakes

2 1/2

cups

button mushroom sliced ( I like Portobello mushrooms)

1/3

cup

grated parmigiano cheese

1/4

cup

fine chopped parsley
Directions
Heat 2 tablespoons of extra virgin olive oil in a sauce pan over high heat, add the arborio rice and cook for 2-3 minutes sitrring continuously

Add the verjuice and continue to stir until liquid is absorbed. Stir in stock 1/2 cup at a time, stirring until liquid has been absorbed and the rice is al dente. Remove from heat.

Meanwhile, heat butter and remaining extra virgin olive oil in a medium frying pan over high heat,. Add garlic, onion, chili flakes and saute` until onion is translucent.

Add chicken and pan fry for 3 to 4 minutes.

Add mushrooms and cook for 4 - 5 minutes stirring occasionally until mushrooms are soft.

Transfer chicken mixture and parmigiano cheese to the rice and mix well to combine. Season with salt and pepper to taste.

Garnish with parsley.