Orata (Sea Bream) alla Veneziana
Orata - Sea Bream alla Veneziana.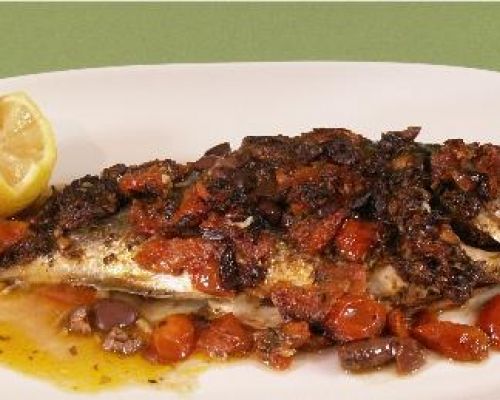 Ingredients
For 1 Person(s)
For the Orata:
1

Orata - Sea Bream of about 1 Lb

10

cherry tomatoes

1/2

cup

white wine

10

olives pitted

1

tablespoon

fresh parsley

1

tablespoon

capers

2

fillets of anchovies

1

lemon

4

cloves garlic

peperoncino - hot pepper

salt

extra virgin olive oil
Directions
Pre-heat the oven at 400F.

Clean the fish and put it in a plate in which you have squeezed the juice of the lemon.

Leave the fish in the juice for about 30 minutes. Turn it a few times.

Chop up very finely the garlic, capers, parsley and the anchovies.

In a saute pan add 4 Tbs of EV olive oil and saute the chopped ingredients.

Add salt and peperoncino as desired.

After a few minutes add 1/2 of the white wine and let it evaporate.

Once the wine evaporates, add the chopped tomatoes and cook for about 10 mins.

In a baking pan add a few Tbs of EV olive oil and place the fish.

Pour the sauted ingredients on top of the fish. Add the remainder of the wine in the pan and bake for 60 mins. at 400F.
Categories:
Entree Recipes
,
Fish Recipes
,
Easy Recipes
,
All Recipes
,
Christmas Recipes
,
Valentine's Day Recipes
,
Mother's Day Recipes
,
Father's Day Recipes
,
4th July Recipes
,
Christmas Fish Recipes
,
Valentine's Day  Recipes
,
Diabetic Entree Recipes
,
Heart Friendly Entree Recipes
,
Gluten Free Entree Recipes
,
Mediterranean Diet Entree Recipes
,
Veneto Recipes