Zucchine alla Poverella
Zucchini of the Poor Lady... inexpensive and simple to make.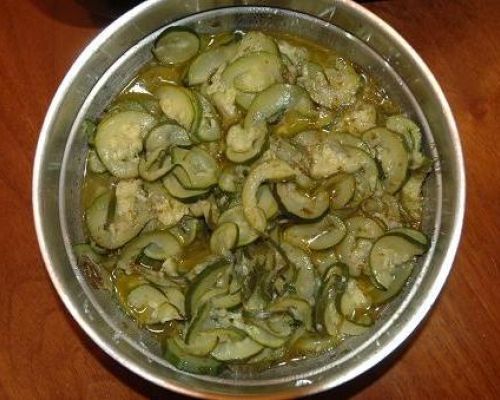 Ingredients
For 6 Person(s)
For the Zucchini:
2

pounds

zucchini

7

ounces

extra virgin olive oil

3

ounces

wine vinegar

3

ounces

water

3

cloves garlic

2

ounces

fresh mint
Directions
Wash the zucchini and cut them in round slices 1/4 inch thick.

Boil the zucchini slices in water and salt.

Remove the zucchini from the water once they have boiled for 2 minutes.

In the same water add the vinegar and the oil. Chop the garlic and mint and add to the water as well.

Bring the entire content to a boil, pour over the zucchini and serve.

These zucchini can be served hot or cold.
Categories:
Appetizer Recipes
,
Nonna Ninetta Romano
,
Side Dish Recipes
,
Puglia Recipes
,
Easy Recipes
,
All Recipes
,
Easter Recipes
,
Valentine's Day Recipes
,
Super Bowl Recipes
,
Mother's Day Recipes
,
4th July Recipes
,
Zucchini Recipes
,
Labor Day Recipes
,
Summer Appetizer-Side Recipes
,
Diabetic Appetizer Recipes
,
Heart Friendly Appetizers Recipes
,
Gluten Free Appetizer Recipes
,
Vegetarian Appetizer Recipes
,
Vegan Appetizer Recipes
,
Mediterranean Diet Appetizer Recipes