Fava Beans and Chicory
Fava Beans and Chicory... a traditional recipe from Puglia.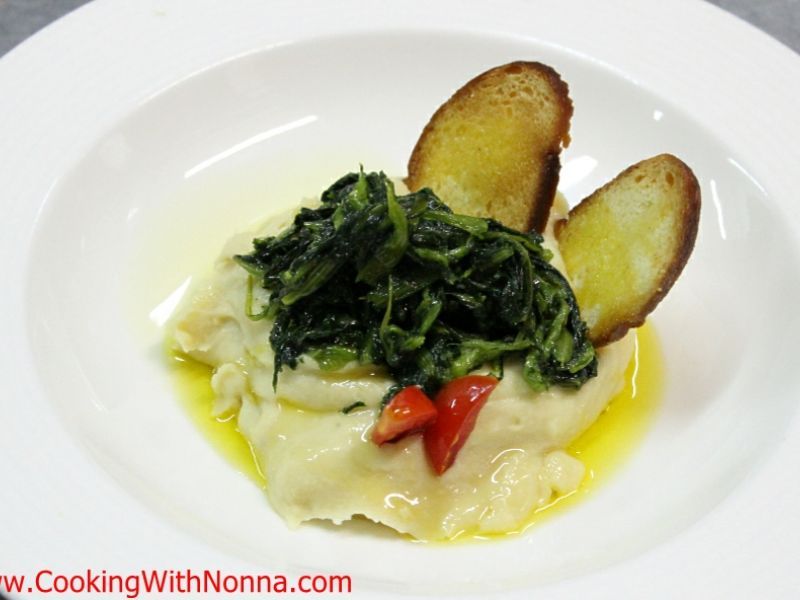 Ingredients
For 4 Person(s)
For the Fava Beans:
1/2

pound

dried Fava beans, soaked in water for 12 hours

2

pounds

chicory

1

small onion, finely sliced

1

tomato, seeded and chopped

1

medium potato

1

clove garlic

salt & pepper

extra virgin olive oil

slices of toasted bread
Directions
In a large thick-bottomed pot, add 1/4 cup EV olive oil and saute` the onion and garlic until the onion is translucent.

Add the tomato, cook for a few seconds more. Add the potato and the fava beans and enough water to cover them by at least 1 inch.

Bring the pot to a boil and then let the fava beans simmer for 2 hours, skimming away the froth that rises to the surface occasionally.

When the beans are done, stir them with a wooden spoon to reduce them to a puree.

While the fava beans are simmering, wash the chicory and put them in a large pot. Season lightly with salt and cook until the ribs are soft and most of the liquid has been absorbed. Turn off the heat and keep warm.

Spoon the blended fava beans into a serving dish, arrange the cooked chicory in a mound at the center of the dish. Serve with toasted bread, salt & pepper as desired and a drizzle of EV olive oil.
Categories:
First Course Recipes
,
Side Dish Recipes
,
Puglia Recipes
,
Easy Recipes
,
All Recipes
,
Christmas Recipes
,
Thanksgiving Recipes
,
Easter Recipes
,
Valentine's Day Recipes
,
Chicory Recipes
,
Dry Fava Beans Recipes
,
Mother's Day Recipes
,
Father's Day Recipes
,
Valentine's Day  Recipes
,
Diabetic Appetizer Recipes
,
Diabetic First Courses Recipes
,
Heart Friendly Appetizers Recipes
,
Heart Friendly First Courses Recipes
,
Vegetarian Appetizer Recipes
,
Vegetarian First Course Recipes
,
Vegan Appetizer Recipes
,
Vegan First Course Recipes
,
Mediterranean Diet Appetizer Recipes
,
Mediterranean Diet First Course Recipes
,
Thanksgiving Appetizers and Sides Recipes
,
Christmas Appetizer Recipes
,
Easter Appetizer and Side Recipes